Like you haven't had enough of us already..
Blogger profile, older photographs, Flickr album, Picassa album, Facebook profile, Ryze page, Orkut page, LinkedIn page, published articles.
Guest bloggers:
Hurree and Annie
Reactions, suggestions, any kind of feedback is always welcome.
CollaBlogs infested: Jugalbandi; Caferati's blog; blogolepsy; indi³; We, the Media; Son of CSF. Now and then, when Hurree needs a holiday, i pinch-hit at Kitabkhana.
And of course, the wonderful World Wide Help group blogs, which include:
The South-East Asia Earthquake and Tsunami Blog and TsunamiHelp Wiki | MumbaiHelp | Cloudburst Mumbai | KatrinaHelp Blog and Wiki | RitaHelp | South Asia Quake Help |
Site feed: Atom or Feedburner.
We endorse, approve of, and throughly adore:
The Babu
Annie
Megha
Calvin and Hobbes
Frazz
The funniest page on the web
Luciferous Logolepsy
Wired
Google News
Books at the Guardian
Wikipedia
Hobson-Jobson
A.Word.A.Day
List of Bests
Word Spy
Literary Encyclopedia

Other Thieves of our Time
[!] = updated in the last 24 hours Blogroll me?
Recent Posts
Swab your cheek - help save Nalini
Environment-friendly spam
You and I
For Anonymous
Imagine
Why you should send your visiting card to a PR spa...
Do they know it's Christmas?
The problem is us
Godawful Poetry Fortnight - writing cue - day 13
Godawful Poetry Fortnight - writing cue - day 12

D Mervin Ffingir writes, and having writ, moves on:
September 2003 | December 2003 | January 2004 | February 2004 | March 2004 | April 2004 | May 2004 | June 2004 | July 2004 | August 2004 | September 2004 | October 2004 | November 2004 | December 2004 | January 2005 | February 2005 | March 2005 | April 2005 | May 2005 | June 2005 | July 2005 | August 2005 | September 2005 | October 2005 | November 2005 | December 2005 | January 2006 | February 2006 | March 2006 | April 2006 | May 2006 | June 2006 | July 2006 | August 2006 | September 2006 | October 2006 | November 2006 | December 2006 | January 2007 | February 2007 | March 2007 | April 2007 | May 2007 | June 2007 | July 2007 | August 2007 | September 2007 | October 2007 | November 2007 | December 2007 | January 2008 | February 2008 | March 2008 | April 2008 | May 2008 | June 2008 | July 2008 | August 2008 | November 2008 | December 2008 | January 2009 | March 2009 | April 2009 | May 2009 | June 2009 | July 2009 | August 2009 | September 2009 | November 2009 | December 2009 | January 2010 | February 2010 | March 2010 | June 2010 | July 2010 | August 2010 | October 2010 | November 2010 | December 2010 | January 2011 | February 2011 | March 2011 | April 2011 | May 2011 | August 2011 | September 2011 | December 2011 | February 2012 | March 2012 | August 2012 | December 2012 | April 2013 |
Wednesday, April 26, 2006
We took a lot of pictures this month.
Do see
. Comments welcome.
Blogged for thee
by @ 3:20 am |
3 Comments
| |
Link Love?
|


---
Blogged for thee
by @ 2:54 am |
2 Comments
| |
Link Love?
|


---
The Kaavya Viswanathan thingy, which we just
posted about at Kitabkhana
reminded us that thanks to a combination of a bit of flu, a
still-aching butt
and a persistent lower back hassle (ooer, we're getting old, we are) we forgot to post about
Shilpa Bhtanagar
's plaint.
Y'see, the lass has
been plagiarised
(do read her updates on the matter), and when she fought back,
the plagiarist
threatened to sue, believe it or not.
Anyway, everyone seems to have posted about this, so we won't shove in our tuppence, except to point you to Shilpa's
new post on the matter
.
Blogged for thee
by @ 1:09 am |
2 Comments
| |
Link Love?
|


---
Tuesday, April 25, 2006
Some extracts from a A New York Times article titled
Elderbloggers Stake Their Claim
, by Lee Roberts.
With a breadth of experience and perspective, older bloggers are staking out a place in the blogosphere — a medium overwhelmingly dominated by the young. Perhaps more attentive to grammar and less likely to use cutesy cyberspeak,
heh.
older bloggers expound on topics as varied as poetry and politics, gardening and grandmothering. According to a recent report by the Perseus Development Corporation, a research company that studies online trends, the Internet is home to approximately 54.3 million blogs, nearly 60 percent written by people younger than 19. Just 0.3 percent of blogs are run by people 50 or older, yet that's still about 160,000 bloggers.
"I'm 81 years old and this blog has opened up a whole new world to me," Mr. Reichek said. "And I'm not doing this because I'm a lonely old man. I don't lack for social interaction. I find it a fascinating hobby, and a fruitful one."In one posting, Mr. Reichek wrote about what he thought was the insanity of the Iraq war, which prompted volleys of comments from pro- and antiwar partisans. "There were 14 or 15 people using my blog to have an argument about their positions on the war," he said.
Familiar?
"It's kind of like talking over the backyard fence," he said. "Like a neighborhood."
While the 65-plus age range is notoriously tech-shy, many say that the blog-hosting companies make it simple to start and maintain one. [..] "I'm a technophobe," he said. "But 1, 2, 3 and suddenly, I've got a blog."
Read
the whole thing
And visit the blogs cited:
Late Life Crisis
Time Goes By
["has links to more than 100 blogs written by people 50 and older, many of them 65 and older."]
octogenarian.blogspot.com
Milt's Muse
And then go persuade a senior citizen you know to start blogging.
Blogged for thee
by @ 8:34 pm |
1 Comments
| |
Link Love?
|


---
Saturday, April 22, 2006
This in via email:
Just a line to say that the mumbai-headquartered Dignity Foundation is setting up a library for its township at Neral, near matheran : off mumbai.
I am assisting by way of passing around the hat : for any books you may like to donate.
In this connection, I am reproducing below the note that has appeared in the March 2006 issue of Dignity Dialogue : the official journal of Dignity Foundation.
Hiro Shroff : oral historian & journalist
mobile 98208 90764 :
Mumbai 22/04/26

Dignity Dialogue : March 2006
LIBRARY
The library, at the Dignity Lifestyle Township at Neral is shaping up well.
A few books have already come in and we would now welcome your donation by way of more books, music CDs and video films.
Hiro Shroff, oral historian and journalist, and author of the book --Down Memory Lane -- is our honorary books advisor.
Your gift packets may please be sent to Dignity Foundation addressed to :
Mrs. Umadevi Krishnamurthy
Dignity Foundation
BMC School Building
Topiwala Lane
Opp. Lamington Road Police Station
Grant Road (E)
Mumbai 400 007
Uma's tel no. 022 23885090 :
Email id : dearuma@gmail.com

Signed : Sheilu Sreenivasan
President : Dignity Lifestyle Township
Dignity Foundation, Dignity Lifestyle Township
Blogged for thee
by @ 5:26 pm |
2 Comments
| |
Link Love?
|


---
Friday, April 21, 2006
Pranay Srinivasan
mails in a link to this petition:
We are a bunch of very keen, regular listeners to your Radio Station, in particular the English music. Over a period of time we have been listening to programs like "The Nightshift", "The Midnight Shift", "Big Brunch", "90s on 925", "GMM" and "College Radio".

Each of these programs caters to a different section of English music lovers and most of us actually listen to all of the above. Therefore, it has come as a total surprise, or rather shock that your Station has chosen to GO Hindi leaving all your loyal listeners stranded. We believe that this could probably be because there are other Cities involved which may have a large following of Hindi music lovers but Mumbai, we think is a City apart. It has a total cosmopolitan feel and has a huge following of English music lovers. So in the general interest of the English music lovers we have chosen to write this letter to you.
Read – and, if you feel strongly enough about it, sign – the
"Don't GO Hindi" Petition
addressed to the folks at
Go 92.5 FM
. We're happy enough with our 40gb+ library of mp3s.
Blogged for thee
by @ 7:27 pm |
1 Comments
| |
Link Love?
|


---
Monday, April 17, 2006
In order of seniority...
Mara
Tiglath
Partha Pantha
Sorry. The humans here tell me that my non-Bong ears mishear the 'n' sound. The little cat, though, is indifferent to my heresy as long as I have a plate in my hand.
Blogged for thee
by @ 7:25 pm |
3 Comments
| |
Link Love?
|


---
Posting from just around the corner from here. Udaipur pictures soon, once we have tried to flog them to Outlook Traveller. :)
Blogged for thee
by @ 7:11 pm |
2 Comments
| |
Link Love?
|


---
Monday, April 10, 2006
Blogged for thee
by @ 12:38 am |
4 Comments
| |
Link Love?
|


---
..on our first-ever junket! We're feeling very important. It's
so
nice having tickets delivered, PR people call us to arrange pick-ups and all that. Almost makes up for having the trip postponed twice and then having to leave home at 4 ack emma.
We're a bit fuzzy on the details, but we think we're going to be resting our tired bones
here
for the next few days, sleeping in something like
this
, eating at one of
these
, unwinding, perhaps,
here
.
And then we'll have to write about it. Ah well. Tough job, but someone's gotta do it.
Blogged for thee
by @ 12:16 am |
2 Comments
| |
Link Love?
|


---
Saturday, April 08, 2006
Oh joy. We've been waiting for Nilanjana to post her Calcutta essay, which ran in
Seminar
.
It was when we heard about Argha the mali selling the books that we finally accepted the house in Calcutta was dying. The house was of a type once common in Calcutta, now increasingly rare, the few specimens left either already crumbling, already neglected, or looking strangely out of place, forlorn bungalows dwarfed and flanked by multistoried buildings.

But when we grew up, it was the apartment buildings that were rare, especially in South Calcutta. There, most of the families we knew lived in houses like the one on Rowland Road: gracious, sprawling, one-or-two-storeyed bungalows in red or white or cream brick, the louvred window shutters painted in green or blue.

No one in our tiny corner of Calcutta would ever be crass enough to discuss family money, but it was easy to see who had it and who didn't. The ones who still had trust funds and deposits and prosperous folders of share certificates had their houses painted every year, the silver polished every week, the red or black stone floors swept and swabbed to a high gloss, the Irish linen or Bengal Home tablecloths washed, starched and returned in pristine condition by the family dhobi. For burra khanas, the plate and china would come out from pantries, the chandeliers or the candelabra would be dusted, the old portraits would receive another coat of varnish, the latticeworked iron door and window grills repainted--even the gravel on the driveway would be shampooed.
Read on..
Blogged for thee
by @ 5:25 pm |
2 Comments
| |
Link Love?
|


---
Thursday, April 06, 2006
BoingBoing prints this letter from Bennett Haselton, founder of Peacefire, about the FCC's ludicrous decision to issue a fine for the incident that gave us the term "wardrobe malfunction" two years ago:
I usually don't send out pure opinion pieces, but let it be said: There is not one person anywhere who can give you a good reason why it's OK to show a man's chest on TV, but not a woman's chest. You can ask over 100 people why -- trust me, I have -- and not get a real answer. It's just a silly superstition that some people came up with, a bunch of others went along with it, and now we're stuck with it. Have you ever heard a real reason?
Read on
.
Blogged for thee
by @ 7:49 am |
0 Comments
| |
Link Love?
|


---
Blogged for thee
by @ 7:44 am |
0 Comments
| |
Link Love?
|


---
Blogged for thee
by @ 7:40 am |
2 Comments
| |
Link Love?
|


---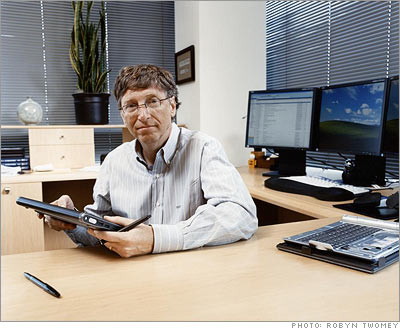 "At Microsoft, e-mail is the medium of choice, more than phone calls, documents, blogs, bulletin boards, or even meetings (voicemails and faxes are actually integrated into our e-mail in-boxes).

"I get about 100 e-mails a day. We apply filtering to keep it to that level–e-mail comes straight to me from anyone I've ever corresponded with, anyone from Microsoft, Intel, HP, and all the other partner companies, and anyone I know. And I always see a write-up from my assistant of any other e-mail, from companies that aren't on my permission list or individuals I don't know. That way I know what people are praising us for, what they are complaining about, and what they are asking."
From
How I Work: Bill Gates
in
Fortune
, and on CNNMoney. [Via
Fosfor Gadgets
.]
Darn. No mention of those emails that His Billness is supposed to be tracking and paying us 5 cents for.
p.s. The rest of the
How I Work
series features Marissa Mayer Bill Gross, Vera Wang, Howard Schultz, Wynton Marsalis, Carlos Ghosn, Amy W. Schulman, A.G. Lafley, John McCain, Jane Friedman, Judge Richard Posner, Hank Paulson.
Blogged for thee
by @ 7:33 am |
0 Comments
| |
Link Love?
|


---
The most popular registered domain name length is actually 11 characters long, tailing off from there.
and
There are 253,000+ non-IDN domains that are 32 characters or longer, including 538 that are 63 characters long.
These include
[...]
DIDYOUKNOWTHATYOUCANONLYHAVESIXTY-THREECHARACTERSINADOMAIN-NAME.com
That one's for sale, by the way. Heh.
And there's lots more in
Interesting Facts About Domain Names
over at
Dennis Forbes's site
, with a Part Two expected any day now.
[Via
BoingBoing
]
Blogged for thee
by @ 5:18 am |
0 Comments
| |
Link Love?
|


---
Cartoon by Dave Walker. Find more cartoons you can freely re-use on your blog at We Blog Cartoons.
Blogged for thee
by @ 4:20 am |
3 Comments
| |
Link Love?
|


---
Wednesday, April 05, 2006
Blogged for thee
by @ 10:53 pm |
0 Comments
| |
Link Love?
|


---
Do you know your online rights? Have you received a letter asking you to remove information from a Web site or to stop engaging in an activity? Are you concerned about liability for information that someone else posted to your online forum? If so, this site is for you.
Go see
Chilling Effects Clearinghouse
.
It's all US-centric, natch, but worth a look-see. Of particular interest to many bloggers, the sections on
Linking
,
Protest, Parody and Criticism
, and
Anonymity
.
(: The site is also requesting submissions to its
Database of Cease & Desist Notices
. Wethinks that Pradyuman Maheshwari and all the Aye Aye Pee Em fans can make some constributions to that one. Heh. :)
Blogged for thee
by @ 6:51 am |
0 Comments
| |
Link Love?
|


---
While we were wandering the net in search of column fodder, we chanced upon the famous letter Groucho Marx wrote to Warner Brothers. If you haven't heard of it, here's the background:
While preparing to film a movie entitled A Night in Casablanca, the Marx brothers received a letter from Warner Bros. threatening legal action if they did not change the film's title. Warner Bros. deemed the film's title too similar to their own Casablanca, released almost five years earlier in 1942, with Humphrey Bogart and Ingrid Bergman. In response Groucho Marx dispatched the following letter to the studio's legal department:
Read the letter.
Blogged for thee
by @ 6:40 am |
2 Comments
| |
Link Love?
|


---
Tuesday, April 04, 2006
Blogged for thee
by @ 6:06 am |
0 Comments
| |
Link Love?
|


---
Monday, April 03, 2006
Blogged for thee
by @ 8:12 pm |
2 Comments
| |
Link Love?
|


---
Venue: Stein Auditorium, India Habitat Centre, New Delhi
Thursday 6 April
19:30 Festival Opening
by invitation only
Deborah Moggach reads from her novel These Foolish Things , set in Bangalore and is interviewed by Caroline Phillips.
Friday 7 April
10:00 William Dalrymple previews his new book, The Last Mughal. Followed by a Q&A session with Rahul Bose.
11:00 Globalisation, the writer and the nation
Yasmin Alibhai-Brown chairs a discussion about whether globalisation limits the types of stories that writers can tell. Panel members include Amit Chaudhuri, Shashi Tharoor, Nadeem Aslam and Rana Dasgupta.
13.15 Muslims and the Media
Allan Jenkins chairs a discussion on the media's coverage of Islam with Yasmin Alibhai Brown, MJ Akbar, Nadeem Aslam, Muneeza Shamsie and Clare Short.
14.30 Bridging the Gap: Literary Festivals, Writers and Readers
Geordie Greig (chairing), Palash Dave, Alexandra Pringle, Catherine Lockerbie, Pablo Ganguli and Tarun Tejpal discuss the growth of literary festivals around the world and examine the potential for literary festivals in India to boost readership.
16.00 Women's writing: what is it and do women want it?
Muneeza Shamsie chairs a discussion including Catherine Lockerbie, Deborah Moggach, Malavika Sangghvi, Manju Kapur and Urvashi Butalia.
18:00 Penguin Book Launch – Edna Fernandes's Holy Warriors
Saturday 8 April
10.00 Bihar and India's new modernity
While talk of nuclear power and globalisation preoccupy the Indian capital, the Indian state of Bihar is wrought with poverty, corruption and violence. How do such regions figure into the narrative of contemporary India ? Somini Sengupta chairs a discussion with Sam Miller, Vir Sanghvi, Tabish Khair and Siddharth Chowdhury.
11.30 Small presses versus multinationals
Alexandra Pringle chairs a discussion including Pete Ayrton, Richard Beswick, Pramod Kapoor, Renuka Chatterjee and Boyd Tonkin.
13:30 Media Culpa: Does the media fail literature in the UK and India?
Geordie Greig chairs a panel including Alexandra Pringle, Richard Beswick, Allan Jenkins, Tarun Tejpal, Jai Arjun Singh and Toby Lichtig.
15:00 Wasafiri Panel: Writing Across Worlds and Between the Lines
A discussion of little magazines and their role in promoting South Asian writing with Susheila Nasta, Aamer Hussein, Tabish Khair, Maya Jaggi and others.
16:30 'A Lotus Grows in the Mud'
Goldie Hawn will be discussing her recent spiritual memoir A Lotus Grows in The Mud and will then reflect on seminal life experiences with Geordie Greig. Followed by a Q&A session.
18:00 Penguin Book Launch – Sanjay Suri's Brideless in Wembley
19:00 Wasafiri-Routledge Literary Reception. Readings by Tabish Khair, Aamer Hussein
and others.
By Invitation Only
Sunday 9 April
10.30 Readings : Rana Dasgupta and Amit Chaudhuri
11.30 Humanity, fallibility and truth in contemporary politics
Vir Sanghvi chairs a discussion with Clare Short, Rory Stewart and Shashi Tharoor.
13.30 From snake charmers to call centres
Rana Dasgupta chairing a discussion with William Dalrymple, Pavan K Varma, Randeep Ramesh, Siddharth Dhanvant Shanghvi and Amit Chaudhuri on new trends in literature, narrative non-fiction and reportage from South Asia.
15:00 Readings : Pavan K Varma and Rahul Bose
16.00 The Home and the World
William Dalrymple chairs a panel on the role of the South Asian disapora in contemporary literature with CP Surendran, Tabish Khair, Aamer Hussein, Siddharth Dhanvant Shanghvi and Manju Kapur.
19:00 Roli Books Launch – C.P. Surendran's debut novel An Iron Harvest
Blogged for thee
by @ 6:20 pm |
0 Comments
| |
Link Love?
|


---
Blogged for thee
by @ 6:16 pm |
0 Comments
| |
Link Love?
|


---
Sunday, April 02, 2006
Our pal
Bala
has just started the
Indian Music Blog Directory
.
If you'd like to be listed,
please send in the following information to bala [dot] pitchandi [at] gmail [dot] com:
Name of the Blog
Blog Description
Your Name
Blog URL
Language (Hindi, Bengali, Tamil, Telugu, Kannada etc)
Location
Blogged for thee
by @ 1:50 am |
0 Comments
| |
Link Love?
|


---
Saturday, April 01, 2006
We have this featured in our column tomorrow, and ethics prevent us from putting the entire section here when the paper that's paying for it isn't even on the stands yet, but here's the bit that we think needs a push, the earlier the better. Do pass on.
ChildLine India
, which has its tenth birthday this year, is hosting a fundraiser today at Shanmukhananda Hall on the 2nd April, with Shankar, Loy and Ehsaan. Contact 55447776 or mail
pooja@childlineindia.org.in
or see the
"What's New" page
on the site.
Blogged for thee
by @ 12:02 pm |
0 Comments
| |
Link Love?
|


---
Angelo also sent me this:
Filipinos who have survived:
Lilia Hermoso
Bayani Hermoso
Lanette Salgado
Segunda Siena
Hyacinth Dacay Perez
Abigail Silva
Pamela Belardo
[
source
]
Bahraini Survivors:
Khalil Mirza
Indian Survivors:
Jaikumar George
[
source
]
Singaporean Survivors:
Ng Khee Seong
Cindy Liau
[
source
]
Angelo is keeping the info flowing on
CSF II
, and may be joined there by Ashish Gorde, who wrote about
losing a dear friend in the tragedy
.
Blogged for thee
by @ 7:25 am |
0 Comments
| |
Link Love?
|


---
Blogged for thee
by @ 3:01 am |
0 Comments
| |
Link Love?
|


---
Blogged for thee
by @ 2:19 am |
0 Comments
| |
Link Love?
|


---
Note: [*] = The site linked to requires registration.
Words
We've all heard that a million monkeys banging on a million typewriters will eventually produce a masterpiece. Now, thanks to the Internet, we know this is not true.
~ Eyler Coates

to be nobody but yourself in a world which is doing its best night and day to make you like everybody else means to fight the hardest battle any human being can fight and never stop fighting
~ e e cummings

In three words i can sum up everything I've learned about life.
It goes on.
~ Robert Frost

Ring the bells that still can ring,
Forget your perfect offering,
There is a crack in everything;
That's how the light gets in.
~ Leonard Cohen

May your trails be crooked, winding, lonesome, dangerous, leading to the most amazing view. May your mountains rise into and above the clouds.
~ Edward Abbey, naturalist and author (1927-1989)

I fell in love – that is the only expression I can think of – at once, and am still at the mercy of words, though sometimes now, knowing a little of their behavior very well, I think I can influence them slightly and have even learned to beat them now and then, which they appear to enjoy.
~ Dylan Thomas, Welsh poet, short-story writer, and playwright, "Poetic Manifesto" in the Texas Quarterly, Winter 1961

A writer is somebody for whom writing is more difficult than it is for other people.
~Thomas Mann, novelist, Nobel laureate (1875-1955)

The world in general doesn't know what to make of originality; it is startled out of its comfortable habits of thought, and its first reaction is one of anger.
~ W. Somerset Maugham, writer (1874-1965)

In times of profound change, the learners inherit the earth, while the learned find themselves beautifully equipped to deal with a world that no longer exists.
~ Al Rogers

Assumptions are the termites of relationships.
~ Henry Winkler, actor (1945- )

Our deeds determine us, as much as we determine our deeds.
~ George Eliot (Mary Ann Evans), novelist (1819-1880)

Either you think - or else others have to think for you and take power from you, pervert and discipline your natural tastes, civilize and sterilize you.
~ F. Scott Fitzgerald

There is no remedy so easy as books, which if they do not give cheerfulness, at least restore quiet to the most troubled mind.
~ Lady Mary Wortley Montagu, author (1689-1762)

Work like you don't need the money. Love like you've never been hurt. Dance like nobody's watching.
~ Satchel Paige

Fake it till you make it.
~ (Heard on West Wing)

This work is licensed under a
Creative Commons License.